Tag Archives:
Lake Norman Boat Rental Mooresville
Lake Norman Pontoon Boat Rentals
---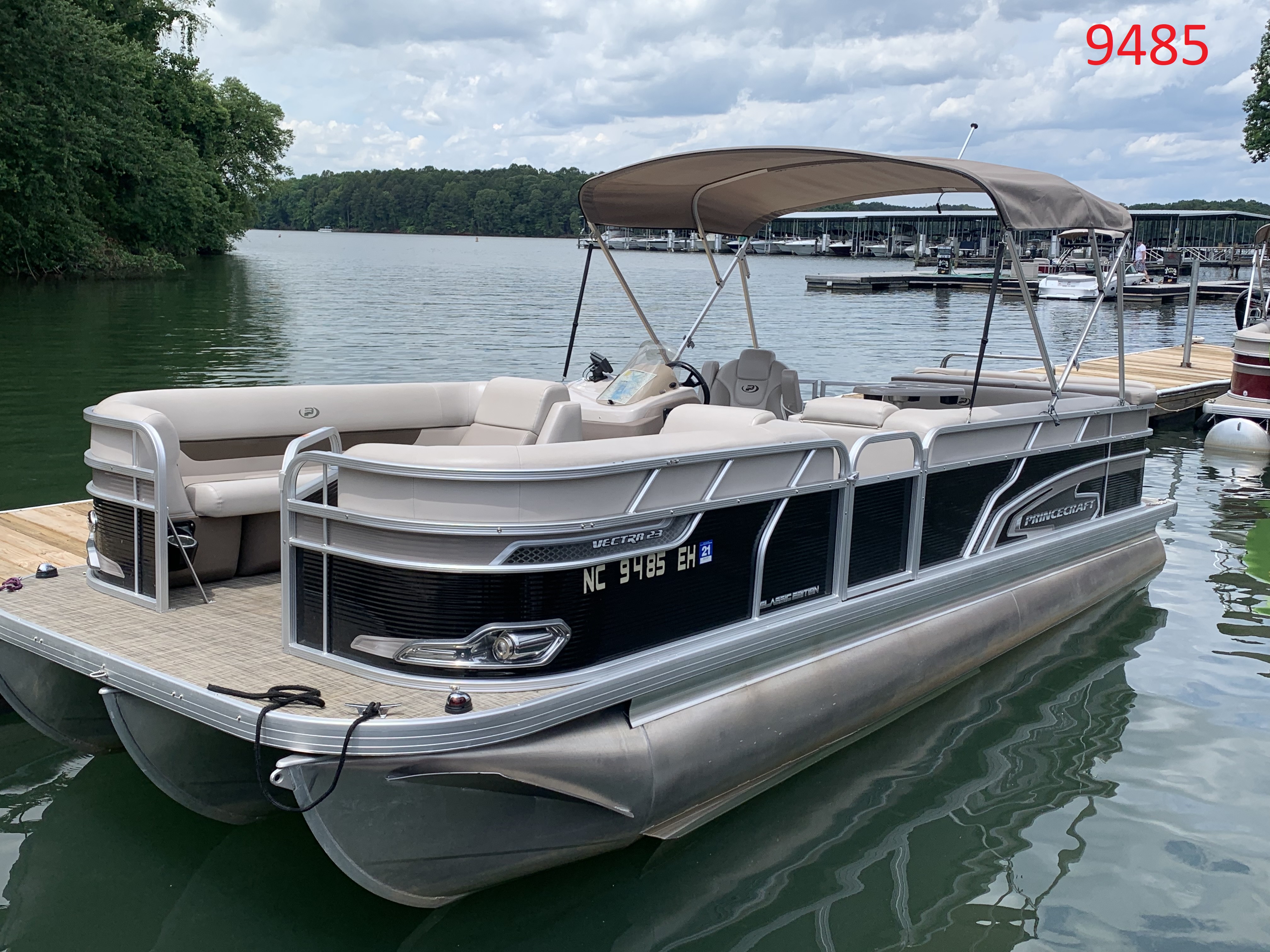 RENTAL RATE CARD
Boat Description/HP/Daily Rental Capacity
4 Hour Weekday
8 Hour Weekday
8 Hour Weekend
Mon.-Fri.
2 Day Weekend
24ft. Princecraft Pontoon / 115 HP / 

8 max capacity

$350.00
$460.00
$460.00
$2,070.00
$920.00
24 ft. Princecraft Tritoon / 150 HP/ 

10 max capacity

$400.00
$515.00
$515.00
$2,300.00
$1,030
24 ft. Princecraft Tritoon / 150 HP / 

10 max capacity

$400.00
$460.00
$515.00
$2,300.00
$1030.00
We Have Experienced Drivers Available! $150 per hour(3 hour minimum) (call for information)
Tube Kit: $35.00 (2 person lay on) (Tube Rope) (Ski Vest provided adult/children)
Hours: Half Day Rental Options (4 hrs. Mon-Thu only – NO Holidays) Call for 1/2 Day Timeframes · Full Day Rental Hours are 9:00-5:00 (8 hrs.) · $500.00 Security Deposit Refunded Less Amount of Gas Used · All Prices Subject to Change.
We have experienced drivers available for a stress-free day out!
Before You Board…
Each year hundreds of lives are lost… thousands are injured… and millions of dollars of property damage occurs because of preventable recreational boating accidents on U.S. waterways. Too often pleasure outings turn tragic. You – as a boat operator, passenger, or concerned individual – can make a difference.
Required Viewing
All renter's should view the following material before boarding any of our rented vessels.
RENTAL BOAT SAFETY VIDEOS. CLICK HERE.
NORTH CAROLINA VESSELS OPERATOR GUIDE. CLICK HERE.
BORN ON OR AFTER January 1, 1988? YOU MUST HAVE A BOAT LICENSE. CLICK THIS LINK FOR BOATER'S SAFETY COURSE LOCATIONS. CLICK HERE.
Life Jackets Are Provided
First off, children under 13 MUST wear a life jacket AT ALL TIMES.
Boaters enjoy the feel of sun and spray. So it's tempting to boat without wearing a life jacket – especially on nice days. But modern life jackets are available in a wide variety of shapes, colors, and sizes. There's no excuse not to wear a life jacket on the water and we especially recommend making sure all children are wearing their vest throughtout your rental time with us.
Additional Preparation
The following documentation is not required for you to provide us BUT it is EXTREMELY helpful and beneficial for boat operators, especially PAGE 2 "BOATER'S EMERGENCY GUIDE." Why should you take the time to prepare a float plan? The answer is simple… there are just too many facts that need to be accurately remembered and ultimately conveyed in an emergency situation. Without a float plan you are counting on someone else, a friend, neighbor, or family member to remember detailed information that rescue personnel need in order to find you. Information that can make a difference in the outcome. Feel free to download and print these sheets out and submit them to us for extra peace of mind.
DOWNLOAD THE OFFICIAL UNITED STATES COAST GUARD FLOAT PLAN.
It's not just about the boat. It's about the total experience from parking your car to getting back to the dock.
24 Ft. Princecraft / 115hp / 8 person
24 Ft. Princeraft Tritoon / 150hp / 10 person
24 Ft. Princecraft Tritoon / 150hp / 10 person
All safety equipment included
Launching 5 Days A Week! 9am to 5pm. PHONE: 704-677-5036
CLICK HERE FOR GOOGLE MAP DIRECTIONS
Take Exit 36 off Interstate 77 and head west for about 5 minutes. We are located just a few yards up on the right past Queen's Landing. You will be launching from River City Marina where parking will not be an issue.
Lake Effects Boat Rentals on Lake Norman
The Lake Effects mission is to provide an exceptional boating experience on Lake Norman and to have the highest quality and variety of boats that will satisfy all our customers. Our team at Lake Effects is no ordinary team. The atmosphere at Lake Effects is very family oriented. We strive to make your entire boating experience from beginning to end excellent. Here at Lake Effects, we think outside of the box. Our team has redefined the boating experience at Lake Effects by serving our customers with the utmost respect, facilitating reservations, ensuring safety our number one priority, making check-in and check-out as convenient as possible and always keeping customers satifaction our focal point. We love Lake Norman, our community and our customers!
Pontoons and Tritoons! We have a large selection of new boats with 115hp up to 150hp motors. If your looking for speed on the water check out our 150hp tritoons. Our Lake Norman Pontoon Boat Rentals are guaranteed to give you a day on the water you deserve. New clean luxury pontoons for rent.
Click here for pricing and availability
Our Ski boat Rentals are sure to impress, New ski boats and wakeboard boats are ready at our dock on Lake Norman. Choose from our Chaparral Ski Boat (pictured) boat rentals or one of our Tigé 25ZX surf boats wakeboard / wakesurf boats equipped with large ballasts and waketowers.
Click here for Chaparral pricing and availability
 Click here for Tige Surf boat pricing and availability
Premium high performance Yamaha Waverunner rentals. These Jet skis are available for daily or weekly rentals. Choose from as little as 2 hour or a full day on Lake Norman or add a jet ski to your vacation rental with your Boat from Lake Effects Boat Rentals.
Click here for pricing and availability. 
LAKE EFFECTS RENTALS AT MIDWAY MARINA
Our rentals and Main office are centrally located right at the heart of Lake Norman at Midway Marina. We are only a few minutes away from Denver, Mooresville and Sherrills Ford. We do deliveries all over Lake Norman if you choose to do a rental for 3 or more days. We deliver to Cornelius, Westport, Statesville and Troutman as well! Lake Effects is located on Lake Norman and our boats are in the water ready to go!